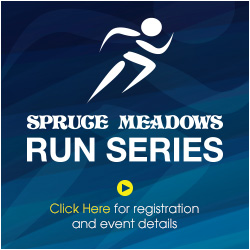 Christmas at Spruce Meadows

Running throughout the Holiday Season, Spruce Meadows invites your entire family - together with your Christmas guests - to enjoy the Christmas Lights @ Spruce Meadows.

Each evening between 5-10 pm from December 5 to January 3 - Scotiabank, Bennett Jones, ATCO Group and AKITA Drilling present Christmas Season magic with a quarter of a million lights, blanketing Spruce Meadows from west to east.

The 2 kilometer drive through the grounds includes Tournament Lane, The Courtyard, Traffic Circle, the Nations Flag Park, Congress Hall, Riders Chapel and the Pond with strings of lights measuring nearly 80 kilometers.
Step out of your car or away from the skating rink to enjoy a hot chocolate or coffee together with a pastry in the warm comfort of the Founders Plaza each evening during the Christmas Lights from 5pm - 8pm.

Be our guests from December 5th to January 3rd and enjoy the
Christmas Lights @ Spruce Meadows every evening between 5-10 pm
compliments of