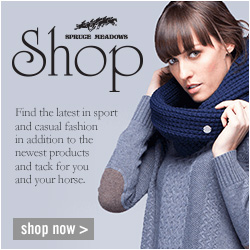 The Horses of Spruce Meadows
The Spruce Meadows Horse Program has a variety of horses available for sale at all levels of experience. We are thrilled with prospects we can show you and we would like you to be confident in purchasing from Spruce Meadows.

All horses for purchase have been trained and ridden by our professional staff, headed by Kelly Koss-Brix. Our preference is to match horse and rider on an individual basis, so we welcome you to visit our stables.
The Spruce Meadows Breeding Program
Spruce Meadows takes great pride in our commitment to excellence. We continue this tradition and offer extraordinary quality and pedigrees through our Hannoverian stallion – Le Primeur & Count Grannus. All Spruce Meadows' stallions are approved by the Verband Hannoverscher Warmblutzuchter e.V., the Canadian Sport Horse Association and the Canadian Warmblood Horse Breeders Association.