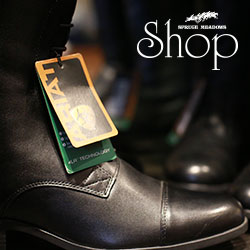 Sales Associate, Spruce Meadows Shop

Title: Sales Associate, Spruce Meadows Shop
Department: Administration
Position: Full time, seasonal
This is a full-time, seasonal position to correspond with our busy tournament season. Spruce Meadows is a world renowned show jumping venue which holds a number of tournaments throughout the year. Events are held on weekends, therefore it is necessary to be available to work both weekends and nights. Shifts will fluctuate to coincide with the busy Spruce Meadows Tournament Season.
RESPONSIBILITIES (included, but are not limited to)
Sales Associate, Spruce Meadows Shop is responsible for assisting with all general related tasks supporting the operations of the Spruce Meadows Shop.

Responsible for assisting with online store orders, including packaging of items, liaising with customers, processing returns and other support as required.

Responsible for ensuring that the highest Customer Service Standards are met and upheld. This includes, but is not limited to greeting customers upon arrival, facilitating special orders, organising change rooms and providing a high level of customer service to customers in store, providing product information for various pieces and directing visitors when appropriate.
MINIMUM REQUIREMENTS
Experience or familiarity with horse equipment and tack
Professionalism in deportment and approach
Strong interpersonal skills
Organizational proficiency
Strong time management skills
Strong team approach and willingness to assist others when necessary
Ability to problem solve and exhibit conflict resolution skills
Ability to work early mornings, weekends and evenings as required
Reliable transportation to and from work and a Class 5 driver's license(there is no transit available to Spruce Meadows)
Current certificate in Standard First Aid & CPR Level C (Asset)
Ability to speak a second language fluently (Asset)
CONDITIONS OF EMPLOYMENT
The Spruce Meadows Mission Statement, the focus of excellent service, the heart and mind of the Southern Family is always at the forefront. This includes but not limited to Spruce Meadows e-mail protocol, quotations, contracts, general correspondence and verbal communications; both in person and via telecommunications (See Spruce Meadows Policy and Procedure Manual, Spruce Meadows Code of Conduct, Spruce Meadows Confidentiality Agreement). – All Spruce Meadows employees are expected to demonstrate and uphold the Spruce Meadows Mission Statement.

RESUME
If you would be interested in joining our team, please mail, fax or email your resume to:
Spruce Meadows
18011 Spruce Meadows Way SW
Calgary, Alberta T2J 5G5
Fax: 403.974.4266
or Email to: (careers@sprucemeadows.com)
We thank all applicants for their interest, however, only those under consideration will be contacted.
No phone calls please.