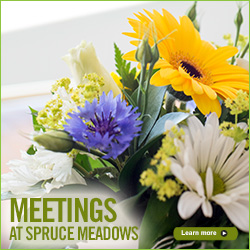 Groom / Stable Hand

Date Updated: April 5, 2018
Status: Hiring On-Going
Position: Full-Time, Permanent
Department: Horse Program

Spruce Meadows, a world renowned show jumping facility, in Calgary, Canada is seeking full-time grooms. Come join the friendly, hard working team in the Horse Program-a busy training, sales and breeding department at Spruce Meadows.
We are looking for grooms to travel to shows as well as grooms to stay home. Riding skills a huge asset, as there are
riding opportunities for experienced applicant.
Grooms are responsible for feeding, grooming, tacking up and lunging horses. Responsibilities include (but are not limited to): mucking out stalls, sweeping barns, turnouts and cleaning tack. This is a full-time position and grooms are required to live in the staff housing provided at Spruce Meadows. The ideal candidate is hard working, goal oriented and an excellent team player. Spruce Meadows is a world renowned show jumping venue with several tournaments throughout the year, and events are held on weekends, therefore it is necessary to be available to work both weekends and nights. Shifts will fluctuate to coincide with the busy Spruce Meadows Tournament Season.
RESPONSIBILITIES
Responsible for care for up to four horses. Care includes:
Grooming which is the primary responsibility and includes washing and bathing, clipping and braiding as required, whirlpool and electromagnetic therapy, hoof-care and corking. Horses must be kept in top condition for competition in International show jumping tournaments and in keeping with strict Hanoverian breeding and competition guidelines.
This also includes maintenance of tack and cleaning as required.
Stall care – mucking out stalls and refilling with straw and shavings.
Feed and hydrate horses – maintain strict dietary controls to ensure horses remain in top competitive condition.
Administer medications as directed by veterinary professionals (under supervision & instruction).
Transportation of horses to and from competitive arenas
REQUIREMENTS
Applicants must be a minimum of 18 years of age.
Applicants should have at least two years prior experience working with show jumping horses
Applicants must be physically fit and able to lift heavy objects like large square bales, jump standards, poles. etc.
Applicants with allergies to animals, dust, straw, grass, etc are not encouraged to apply
Experience with breeding programs is an asset
Strong interpersonal skills and professionalism in deportment and approach
Ability to problem-solve and exhibit conflict resolution skills
Applicants must have the ability to work well within a team and on their own
Applicants must have a valid Class 5 Driver's License

Grooms live on site in newly renovated apartments with all amenities and have access to a staff vehicle. We apologise but no pets are allowed in staff housing.
CONDITIONS OF EMPLOYMENT
Work at Spruce Meadows is conducted both indoors and outdoors, in a fast-paced work environment. Successful applicants must be willing to work in a variety of different settings, and must work well in both team and individual scenarios. The successful candidate must be prepared to work in all weather conditions and will be required to dress appropriately for all conditions and in keeping with conservative and tasteful stable attire-this includes boots with a heel, which are mandatory. A uniform will be required for special events and select tournaments.
RESUME

If you would be interested in joining our team, please mail, fax or email your resume to:

Spruce Meadows
18011 Spruce Meadows Way SW
Calgary, Alberta, T2X 4B7
Re: Groom
OR fax resume 403-974-4266

OR email resume

We thank all applicants for their interest, however, only those under consideration will be contacted.

No phone calls please.