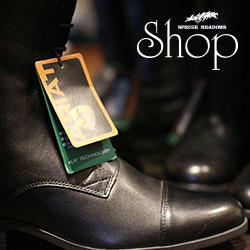 Professional Rider/Trainer (Horse) & Assistant to the Lead Spruce Meadows Rider
Date Posted: June 22, 2017
Status: Hiring
Terms of Employment: Full-Time Permanent
Department: Horse Program
Spruce Meadows, a world renowned show jumping facility, in Calgary, Alberta, Canada is seeking full time Professional Rider/Trainer (Horse) & Assistant to the Lead Spruce Meadows Rider. Come join the friendly, hard working team in the Horse Program-a busy training, sales and breeding department here at Spruce Meadows. We are looking for a professional rider/trainer & assistant to the lead Spruce Meadows Rider to ride on behalf of the Spruce Meadows team as well as be involved in the administration and organization of the Spruce Meadows Horse Program.
The job of Professional Rider/Trainer (Horse) & Assistant to the Lead Spruce Meadows Rider is compensated at $20.00 - $30.00 per hour (plus benefits, including negotiation of relocation allowance) at 40-44 hours per week. Days worked per week will fluctuate to coincide with busy times as well as the care and management of live animals (horses). Weekend, evening, early morning and overtime hours may be required at busy times.
RESPONSIBILITIES (include, but not limited to):
Daily riding of multiple horses of varying levels including but not limited to young horses; stallions; sale and lease horses; experienced horses; client horses. Provide riding instruction to other members of the Spruce Meadows team and clients; Provide day-of show instruction and training to other members of the Spruce Meadows team and clients. Represent the Spruce Meadows standard of excellence when traveling and competing at tournaments on behalf of Spruce Meadows; Assist in developing and executing training programs for horses and riders; Ground work with horses including lunging;
Grooming of horses which includes washing and bathing, clipping and braiding as required, whirlpool and electromagnetic therapy, hoof-care and corking. Horses must be kept in top condition for competition in International show jumping tournaments and in keeping with strict breeding and competition guidelines. This also includes maintenance of tack and cleaning as required. As required, assist with the Spruce Meadows Breeding Program and monitor broodmares/foals.
General horse care including but not limited to: Stall care – mucking out stalls and refilling with straw and shavings; Feed and hydrate horses – maintain strict dietary controls to ensure horses remain in top competitive condition; Administer medications as directed by veterinary professionals (under supervision & instruction); work with veterinarians and farriers on horses (basic knowledge of equine anatomy); Coordinate the transportation of horses to and from various competitions.
General administrative duties including (but not limited to); training and supervision others (generally between 5-10 people) including the co-ordinations of schedules; Comfortable with negotiating with clients for provision of services; maintain financial and horse records; assist in the development and implementation of safety and biosecurity procedures (as directed by Equine Canada, FEI and Canadian Food inspection Agency (CFIA));
MINIMUM REQUIREMENTS
Applicants must be a minimum of 18 years of age.
Applicants must have at least three years prior experience competing in the sport of show jumping at Equine Canada Gold Rated competitions (or national federation equivalent) at a minimum of 1.40m height.
Applicants must be in good standing with the Fédération Equestre Internationale (FEI).
Applicants are required to have completed Post-Secondary education.
Applicants must be physically fit and able to lift heavy objects like large square bales, jump standards, poles. etc.
Applicants with allergies to animals, dust, straw, grass, etc are not encouraged to apply.
Understanding of horse breeding programs.
Excel in oral and written communication (English).
Strong interpersonal skills and professionalism in deportment and approach.
Ability to problem solve and exhibit conflict resolution skills.
Proficient in Microsoft Office.
Applicants must have the ability to work well within a team and on their own.
Applicants must have a valid Class 5 Driver's License.
Applicant must be able to work under the following conditions: fast-paced environment; work under pressure; tight deadlines.
Second language (huge asset, but not required).
CONDITIONS OF EMPLOYMENT
Work at Spruce Meadows is conducted both indoors and outdoors, in a fast-paced work environment. Successful applicants must be willing to work in a variety of different settings, and must work well in both team and individual scenarios. The successful candidate must be prepared to work in all weather conditions and will be required to dress appropriately for all conditions and in keeping with conservative and tasteful stable attire-this includes boots with a heel, which are mandatory. A uniform will be required for special events and select tournaments.
RESUME
If you would be interested in joining our team, please mail, fax or email your resume to:

Spruce Meadows
18011 Spruce Meadows Way SW
Calgary, Alberta, T2X 4B7
Re: Professional Rider
OR fax resume 403-974-4266
OR ashley.wee@sprucemeadows.com
We thank all applicants for their interest, however, only those under consideration will be contacted.
No phone calls please.