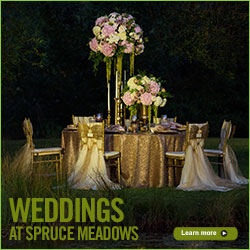 Building Improvments (Operations Services)

Date Posted: January 22, 2018
Status: Hiring
Position: Full-time, PERMANET
Department: Operations Services

This is a full-time position at 40 - 44 hours per week for a rate of $16.00-$18.00 per hour. Spruce Meadows is a world renowned show jumping venue which holds a number of tournaments throughout the year. Events are held on weekends, therefore it is necessary to be available to work both weekends and nights. Shifts will fluctuate to coincide with the busy Spruce Meadows Tournament Season.
RESPONSIBLITIES (Including but not limited to):
· Building Inspections-assess issues throughout the property
· Trouble shooting, Electrical, Plumping & HVAC
· Assist Contractors, Electrical, Plumping & HVAC
· Carpentry/Repairs
· Drywall/Repairs
· Ensure the smallest details are checked over in each venue to ensure customer satisfaction
MINIMUM REQUIREMENTS
· Reliable transportation to and from work and a Class 5 driver's license (there is no transit available to Spruce Meadows)
· High School diploma
· Organizational proficiency
· Ability to move quickly and carry heavy loads
· Strong time management skills
· Strong team approach and willingness to assist others when necessary
· Ability to problem solve and exhibit conflict resolution skills
· Ability to work early mornings, weekends and evenings in listed dates of employment
· Current certificate in Standard First Aid & CPR Level C (Asset)
· Ability to speak a second language fluently (Asset)
CONDITIONS OF EMPLOYMENT
Work is in a fast-paced work environment. Successful applicants must be willing to work in a variety of different settings, and must work well in both team and individual scenarios. The Spruce Meadows venue operates in all weather conditions, from early mornings into late nights and on weekends.
The Spruce Meadows Mission Statement, the focus of excellent service, the heart and mind of the Southern Family is always at the forefront. This includes but not limited to Spruce Meadows e-mail protocol, quotations, contracts, general correspondence and verbal communications; both in person and via telecommunications (See Spruce Meadows Policy and Procedure Manual, Spruce Meadows Code of Conduct, Spruce Meadows Confidentiality Agreement). – All Spruce Meadows employees are expected to demonstrate and uphold the Spruce Meadows Mission Statement.
APPLYING

If you would be interested in joining our team, please mail, fax or email your resume to:

Spruce Meadows
RE: Building Improvments
18011 Spruce Meadows Way SW
Calgary, Alberta T2X 4B7

Fax: 403.974.4266

Email: careers@sprucemeadows.com

We thank all applicants for their interest, however, only those under consideration will be contacted.

No phone calls please.