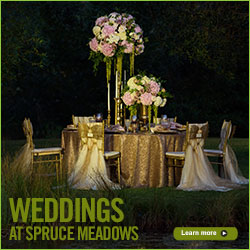 Dressage Welcome Series

New for the 2016 Season, Spruce Meadows introduces the Dressage Welcome Series.
The Dressage Welcome Series will offer:
- 20m x 60m Test Ring in the Equi-Plex
- 25m x 72m Warm-Up Ring in the Riding Hall

$50 per schooling round
10 min. time slot in the test ring.
(Unlimited time in the warm-up ring.
Sign up is first-come, first-served basis)

All riders must provide proof of current (2016) Alberta Equestrian Federation membership,
or proof that they are members of their own provincial federation before they will be allowed in the ring.

---
2016 Dates
Saturday, March 5, 2016 (Indoor: Equi-Plex)
Tentative Time: 8:15 am - 8:15 pm
ENTRIES ARE NOW CLOSED
Download March 5 Schedule (.pdf)
Download Flyer (.pdf)