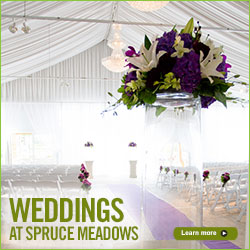 Spruce Meadows Leg Up Foundation
About Us
Since opening its doors in 1975, communities from Calgary, Alberta and Canada have supported the endeavours of Spruce Meadows. Spruce Meadows' mandate has included the commitment to returning that generosity by giving back to the community in meaningful ways. The Spruce Meadows Leg Up Foundation is our new initiative - a charitable arm - and another way for us to have a positive impact on our communities in Alberta.
The Foundation is committed to supporting education, health, wellness, amateur and grassroots sports and will be raising funds throughout the year for these key areas. We are proud of the fact that we support a broad range of initiatives and charities from families facing the illness of a child, organizations that assist in our community, student athletes and more. With your support, we are creating positive change and touching the lives of thousands.
The Spruce Meadows Leg Up Foundation is proud to have worked with and donated to several charitable groups since its inception. The Board of Directors for the Spruce Meadows Leg Up Foundation has worked hard to choose the charities that represent the core values of the Foundation including Education, Sport, Community, Health & Wellness, Youth and Agriculture / Environmental Sustainability as well as Emergency Requirements in Calgary and Alberta. It is the mission of the Foundation to continue to give back to the community in which we are so proud to live.
If you would like to donate to the Spruce Meadows Leg Up Foundation, please click here or email us at legupfoundation@sprucemeadows.com for more information.