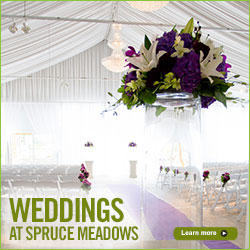 Movies at the Meadows
Soak up the Summer with ATCO and enjoy

Watching movies on a large screen outdoors has become a popular summer activity - and what better place to do it than at Spruce Meadows!
Movies are $20/carload ($15/carload if purchased in advance) and offer a great opportunity for families to enjoy some time together under the stars every night for the first four Wednesdays in August.
Stay tuned to our Facebook page to vote on your favourite movie selections starting this summer and we look forward to seeing you in August for the Movies at the Meadows!
---

Please note: Tickets are DATE SPECIFIC and are non-refundable/non-exchangeable, unless the event is cancelled.
We will relocate to indoor facilities (may be unheated) should the weather become unbearable, but please come prepared for inclement weather. Print your ticket(s) and present before parking for admission.