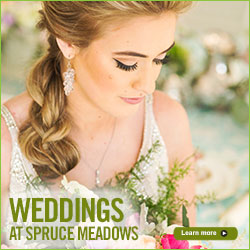 Canada Day at Spruce Meadows
IMPORTANT INFO: Please access Spruce Meadows and our parking from our WEST entrance (off Tournament Lane) and park in lots 7 and/or 8. The main entrance and traditional parking access to lot 2 on the east side of the property will not be accessible
- Alternate route to Spruce Meadows Public Parking (.pdf)
*** Please note: there will be NO FIREWORKS at Spruce Meadows on Canada Day ***
---

Canada day will be held this year during the 'Pan American' tournament, presented by Rolex (June 26 - July 1). Show jumping will be happening on Canada Day starting at 8:00 am and running throughout the day until approximately 4:00 pm [detailed schedule].
---

A complimentary pancake breakfast will be served to the first 5,000 people in Founders Plaza, presented by ATCO
---

Need a place to watch the World Cup games on Canada Day? Join us on the Plaza and watch the games on our big video board and have a chance to win prizes and meet Canada's Nik Ledgerwood and Marco Carducci. 8am: Spain vs Russia 12pm: Croatia vs Denmark
---

Beginning at 10:00 am there will be a variety of family fun activities on the grounds - all with our compliments!
Pony Rides, presented by Kozy Shack: Riding Hall Circle
Street Hockey: Upper Plaza
Face Painting: Plaza
Bouncy Castles: Meadows on the Green Promenade
Exclusive hours of operation will begin at 8:00 am
Carousel, presented by ATCO: Founders Plaza
Mini-Express Train, presented by ATCO: Behind East Meadows Barn
---

The Rocky Mountain Symphony Quartet will be providing beautiful music for everyone in attendance.
---

Celebrate with Spruce Meadows and the Rocky Mountain Symphony Orchestra for a free Canada Day Concert in the park. The concert will take place on the All Canada Ring. This is an outdoor event, please dress accordingly.
---

No tickets are required - this day is completely complimentary courtesy of Spruce Meadows and ATCO.

Please access Spruce Meadows and our parking from our WEST entrance (off Tournament Lane) and park in lots 7 and/or 8. The main entrance and traditional parking access to lot 2 on the east side of the property will not be accessible [Google Map Directions]

The Red Arrow Shuttle Bus will be operating from the Bridlewood/Somerset LRT Station from 8:00 am - 7:30 pm.
For further information on getting to Spruce Meadows - click here.
*** Please note: there will be NO FIREWORKS at Spruce Meadows on Canada Day ***