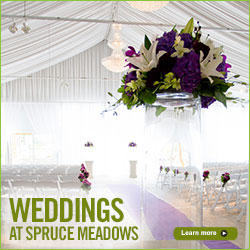 TELUS Battle of the Breeds
TELUS Battle of the Breeds Competitions - September 12 & 13, 2014
Now in its 25th year, the TELUS Battle of the Breeds has become a fan-favourite at Spruce Meadows. Each year, during the "Masters" Tournament in September, ten breeds vie to be the most versatile breed of them all. In 2014, each four-member team will compete in 3 different events: Barrel Racing and two Trail Riding events. Two riders from each team compete in each event, with points awarded according to placement. Riders must be well versed in both Western and English disciplines.

If your horse can drive, jump, race and bunt a monolithic inflated TELUS ball between goal posts — well, you are then set for this nail-biting battle. And oh, did we mention that there are ditches, water and bridges to navigate? Be sure to pack those steady nerves!
There is also a fan-favourite awarded each year - voted by the fans! Last year's winners were the Shetland Ponies. Who will it be this year?
Congratulations to the 2014 Battle of the Breeds Champions
Team Pinto
Click here to view final standings!
Barrel Race

Friday, Sept. 12 at 4:30 pm | Main Sand Ring


This is a speed and maneuverability event. The competitor will be scored on time and faults occurred for barrels knocked down. Each "Three" barrels will be valued as a five second penalty if knocked over. The team with the fastest combined time wins. The top six teams will be competing in a second round.

Trail Riding

Friday, Sept. 12 at 12 pm | North American Ring & Saturday, Sept. 13 at 9 am | All Canada Ring


This event is asking the competitors to display a variety of skills. Passing through and over obstacles plays a major role, but other efforts such as the type of obstacle that tests the concentration of the teams(s) and or control over the animal may be included as well. Obstacles can only be negotiated once however there is not set rule in how to or which order to complete the obstacle. Each obstacle has a point value according to difficulty. A bonus obstacle valued at 100 points will be added after the competitor has crossed the finish line. She/he must decide if they want to attempt the bonus obstacle. Not attempting does not result in penalties. If the bonus obstacle is executed without faults within 30 seconds of declaring, 100 points will be added to the score, 100 points will be deducted if a fault occurs or the 30 sec. time limit is exceeded.
Take me back to the "Masters" Tournament page