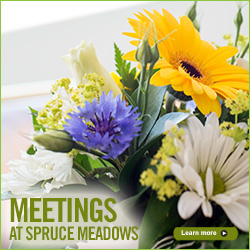 Wetlands keep our water clean
Water quality is one of the most important environmental issues facing Canada and the world at large. As nature's water filters, wetlands play a key role in keeping our water clean. The many types of plants, bacteria and animals that live in wetlands remove many harmful impurities.
Leg Up Foundation Education Program
presented by
The Spruce Meadows Leg Up Foundation is pleased to announce that the School Tour Sessions will be expanded to two weeks in 2018. The School Tours will run from May 28th to June 1st for the first week and June 4th to June 8th for the second week.

The Spruce Meadows Leg Up Foundation, in partnership with Nutrien, presents the GROWING THE NEXT GENERATION School Tours Education Program. The school tours program features highly interactive sessions geared toward the grade 4 & 5 curriculum that focus on agriculture, wetland ecosystems, horse anatomy, horse health & welfare and equine history.
Since the initiation of the 'School Tours' program in the spring of 1976, tens of thousands of Calgary and surrounding area students have participated.
Spruce Meadows provides a unique representative environment of the growth and change of Alberta, its people and the School Tours program itself. Initiated in 1976 by Mrs.Southern herself, the program has evolved over time and continues to incorporate Alberta-based curriculum within its existing five stations. Set in an interactive venue to engage and challenge the students, our program is designed to provide students with the knowledge and consciousness to make informed decisions.

Click here to download our Brochure/Application | Deadline: Tuesday, May 1, 2018
_________________________________________________________________________________________________
This guided field trip will include five key stations:
Station #1: Seed Survivor: Soil, Nutrients, Water & Light

Nutrien sponsors this interactive station with computer games and a hands on 'real planting' session. Watch the students become enthralled as they tour through stations about farming, crops, water management, plant nutrients and taking care of the land around us.

Station #2: ABC BEES
Students will learn about the integral role that bees play in our ecosystem. This interactive station features live bees, fun games to show how bees live and time for questions and answers.
Station #3: Exploring Horse Anatomy - U of C Veterinary School

Students will have an opportunity to see a model of the inside of a horse's belly, see skeletons and examples of procedures used to examine a horse to make sure it's healthy. They will also be able to talk about how to look after a horse to keep it healthy and minimize the risk of diseases transferred to people.

Station

#4: History of The Horse: War Horse to Sport Horse

This station, with so much detail offers students a chance to learn what horses were used for in early times, throughout the ages and of course today. Discover the human relationship with the horse and the importance of the role it plays in Alberta.
Station #5:

"Eyes on The Wetlands": Aquatic Invertebrates

This interactive station has students pond dipping for the catch, identification and release of aquatic invertebrates, while learning their roles within the Spruce Meadows wetland ecosystem.

Spruce Meadows has been approved by the Calgary Board of Education as an "A" Off-Site Activity.
Applications for this program can be downloaded on line and are based on a first come-first-served basis.
Space is limited so please apply early.
_________________________________________________________________________________________________