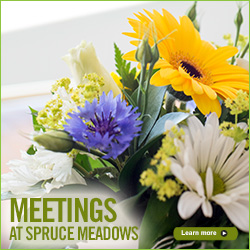 British House
Majestic, and dramatic, British House is an acknowledgment of the deep relationship and collaboration between Spruce Meadows and Britain.

While more intimate but just as impressive as the Congress Hall, the British House's 3,600-square-foot Georgian Room can easily accommodate theatre-style gatherings of 200 and banquets of up to 120 guests (rounds of 8).

It is an ideal choice for host an array of special events such as formal dinners, training classes, business presentations, and receptions. Breakout rooms are conveniently housed in the same building just steps away.
Rental Information
For more information, rental inquiries or to make an appointment to view the facilities*, please contact:
Phone: 403.974.4200
Fax: 403.974.4266
Hours: 9am - 5pm (M-F)
Inquire Online
*Appointments only Monday - Friday from 9am - 4pm