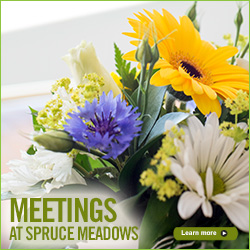 Media Releases
Record Crowd Expected for Final Day
2011-11-26
Record Crowd Expected for Final Day
Spectacular weather and memorable seasonal ambiance will greet visitors on Sunday morning for the final day of the Spruce Meadows International Christmas Market. Forecast highs near 10 degrees are sure to bring a delightful end to the annual Spruce Meadows holiday season tradition.
To date tens of thousands of guests have embraced the spirit of the season, been awestruck by the quality and diversity of over 200 select vendors, and delighted in the wonders of the market's entertainment, cuisine and colour.
November 27th will be the final day of the 2011 Market and visitors should try to arrive early to insure there is plenty to choose from in the four Market Halls and the Outdoor Courtyard. For those not wanting to miss a down in any of the big games, not to worry, Telus Optik-TV has you covered with every game available to watch in HD in the Spruce Meadows Riding Hall.
There are games for the dads, pony rides, a petting zoo and Reindeer Alley for the kids, and a shopping experience you will find nowhere else; Only @ the Spruce Meadows International Christmas Market, presented by Telus.
More information on the International Christmas Market here
Follow Spruce Meadows on Twitter, Facebook, Youtube and of course the official Spruce Meadows Website.