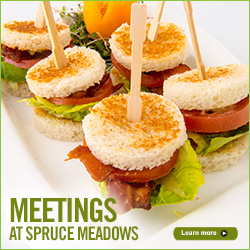 Media Releases
Welcome Series
2012-01-26
Welcome Series January 22
Sunday January 22 proved to be a busy day for the Welcome Series Team. It was a pleasure to see so many faces from 2011 back again in the Spruce Meadows Equi-Plex ring for the Welcome Series. We had a lovely turnout and much nicer weather than the week before.
Winning Tickets
The winning tickets from January 22 are 376292, 376252, 376450. Please check your tickets and if yours is one of the winners contact Spruce Meadows at 403-974-4200 and bring your stub to claim your prize.
The next Welcome Series will be held on Sunday February 12. We will start at 9:00am with the .70m. Please ensure you fill out and hand in a 2012 Welcome Series Waiver Form before your first time in the ring this year. Forms can be downloaded from the website or you can pick one up on the day. Tickets and stalls can be pre-purchased by contacting Spruce Meadows with a valid credit card number, expiry date and CSV prior to the day. For Sunday Feb 12 the cut off for Pre-purchases is 3:00pm Friday Feb 10th.
Follow Spruce Meadows on Facebook, Twitter, YouTube