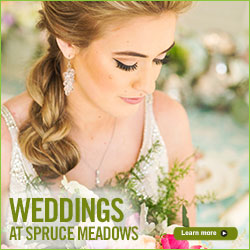 Media Releases
Number One!
2012-02-06
Spruce Meadows – Number One!
Spruce Meadows is extremely proud to announce that for a second year in a row, the North American Riders Group (NARG) has recognized Spruce Meadows as Number 1 in the sport of show jumping in North America for 2011.
NARG consists of the sports' top riders, trainers, coaches, owners and business interests representing Canada, Mexico and the United States. A number of criteria are considered in assessing all of the tournaments, including footing in the rings, prize money, stabling, attendance, course designs, technical aspects and media coverage.
Representing Spruce Meadows for the awards in Wellington, Florida was Kelly Koss, Manager, Horse Program. Spruce Meadows President, Linda Southern-Heathcott, stated "We are honoured to receive the award as it recognizes the dedication of the whole Spruce Meadows Team of sponsors, volunteers and employees to the sport of Show Jumping. We are looking forward to a fantastic season of sport at Spruce Meadows in this Olympic year."
NARG noted that of the top 50 North American tournaments considered, there is no other venue that supports high performance sport in North America to the same degree as Spruce Meadows. Spruce Meadows' tournaments not only focus on providing a high standard to all but through the generous support of sponsors also provides the athletes from around the globe the ability to obtain valuable world ranking points for the Rolex World Ranking computer list.

From left to right: McLain Ward, Murray Kessler, Jimmy Torano, Kelly Koss, Norman Dello Joio, Chris Kappler, Beezie Madden
Photo courtesy of NARG website www.narg.org
Photographer Kenneth Kraus
Follow Spruce Meadows on Facebook, Twitter, Youtube and of course on the official Spruce Meadows Website