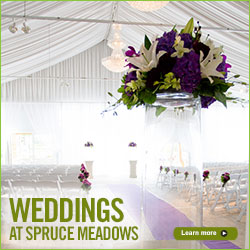 Media Releases
Lunch and Learn
2012-02-14
Sunday Welcome and Lunch and Learn
The first in a series of interactive Lunch and Learn seminars; How to Start a Young Horse with Albert Kley was an unqualified success. Over 250 people gathered on the deck and in the stands of the Equi-Plex arena to enjoy a bowl of chilli and watch a demonstration of how to start a young horse lunging, double lunging (ground driving) and backing. It was a very dynamic program in which the audience was able to interact with Albert and ask questions about the processes.
We had a record turnout for the Welcome Series - 264 trips went through the ring on Sunday! The Welcome team of Lisa, Jon, Kate and Kim would like to thank everyone for their support and patience – it was a fabulous day!
The winning tickets from Sunday February 12 are 376512, 376619 and 376496. If you are the holder of one of the lucky tickets please contact Spruce Meadows at 403-974-4200 or tournaments@sprucemeadows.com prior the next Welcome Series to claim your prize.
As always, follow Spruce Meadows on YouTube, Twitter and Facebook to keep up to date with all Spruce Meadows activities.