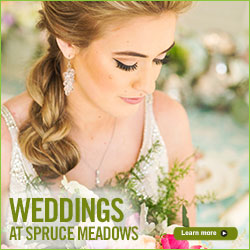 Media Releases
Spruce Meadows Indoor Tournaments
2012-02-14
Spruce Meadows Competition Season is Ramping up!
Spruce Meadows' 2012 tournament season is starting soon! With the February Classic on the weekend of February 25 – 26th, the Winter Farewell March 8 – 11 and the Spring Welcome March 15 – 18, 2012
Entries close for the February Classic this Friday, February 17th. Please follow the links to download the Prize List and entry form.
Spruce Meadows Winter Farewell and Spring Welcome Tournament Prize List and entry forms are posted on line, please follow the links to view and download entries close February 26th for both.