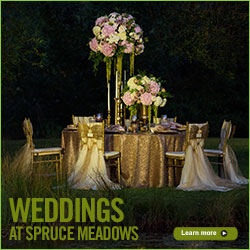 Media Releases
Lunch and Learn
2012-02-29
Welcome Series and Learn at Lunch
There has been a scheduling change for the Welcome Series to note on your calendar. The Welcome scheduled Wednesday March 21st and Sunday April 15th are cancelled.
The Welcome Series on Wednesday April 4th, 18th and 25th are continuing as scheduled and Sunday, April 29th has been added to the schedule. Sunday April 29th will also include the second in the Lunch and Learn Series, How to Start a Young Horse over Fences. Albert Kley will be demonstrating how to introduce a young horse to jumping in the interactive hour and a half session.
Albert will discuss the steps he takes and will be able to answer questions as he goes through the session. There will be an opportunity for a question and answer period at the conclusion of the hands on demonstration. Should the weather be fine we will hold the Welcome and Learn and Lunch in the Main Sand Ring. Should the weather be inclement events will be in the Equi-Plex.
The Welcome will start at 8:30 am with the 0.7m and move up through the levels. There will be a break at 12:00 when lunch will be served and everyone is welcome to gather for the Lunch and Learn. Please RSVP your intention to attend to allow for enough food to be available.
Welcome classes will recommence at 1:30pm where we left off and continue through the levels.
The winning tickets from February 22 are 376622, 376801 and 376847. Please contact Spruce Meadows at 403-974-4200 or tournaments@sprucemeadows.comto arrange to pick up your prize.
Follow Spruce Meadows on Facebook, Twitter and YouTube