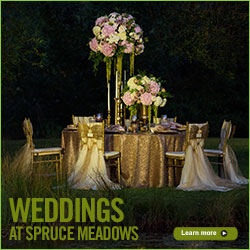 Media Releases
Spruce Meadows Co-Chairmen Recognized at Diamond Jubilee Ceremony
2012-03-21
Diamond Jubilee Recognition
Spruce Meadows Co-Chairmen Ron and Margaret Southern were among twenty-one Albertans recognized today as Queen Elizabeth II Diamond Medal Recipients for their significant contributions and achievements.
In a ceremony hosted by His Honour Donald S Ethell, Lieutenant Governor of Alberta, the Southerns were each presented with a commemorative medal created to mark the 2012 celebrations of the 60th anniversary of Her Majesty Queen Elizabeth II's accession to the Throne as Queen of Canada.
During the Diamond Jubilee year of celebrations, 60,000 deserving Canadians will be recognized by receiving a Diamond Jubilee Medal.