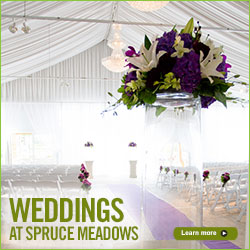 Media Releases
Notice: Power Outage
2012-03-23
Power Outage on Sunday, March 25
Due to a major planned power outage by Enmax- for system upgrades- on Sunday March 25th , the Spruce Meadows Grounds will be closed to the public.
The outage is scheduled to take place March 25th from 700hrs to 1800hrs. During this time there will be no electrical or phone services at Spruce Meadows, nor will there be access for the public to the Spruce Meadows property.
Spruce Meadows is sorry for this inconvenience for those who were planning on visiting the grounds on March 25th. We look forward to welcoming you in the future.