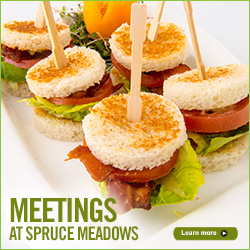 Media Releases
May Classic 2012
2012-04-11
"May Classic" Tournament
Saturday, May 5th to Tuesday, May 8th 2012
Many people in Calgary look forward to the first warm days of spring. Here at Spruce Meadows we celebrate the start of our season with the" May Classic" Tournament. The first outdoor tournament of the season, it is a warm welcome back for both horses and riders.
The "May Classic" is not only an exciting time for viewing competitions. Spruce Meadows has many things to see and do in the springtime. In late April/early May the foals are due to make their grand appearance, so a visit to the barns to see the new arrivals might be in order. Our grounds are also a beautiful sight, with the trees budding, the grass turning into vast expanses of green, and tulips starting to bloom.
Competitions in this tournament range from pony hunters to 1.40m. For more information, please click here. Admission and parking are free.
** Please note that the closing date for the entries is April 11th. For entry details, please click here. **