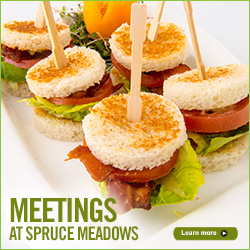 Media Releases
Premium Skybox Seating
2012-04-18
Premium Skybox Seating: The Ultimate Experience
Spruce Meadows is excited to once again offer The Premier Club VIP seating hosting opportunity overlooking the International Ring.
The Premier Club features the most delicious, diverse and healthy menu offered at the tournaments. Fresh fruits and vegetables, bountiful salads, and an assortment of hot and cold dishes are served daily from Wednesday through Sunday for breakfast, lunch and dinner at the "National" and "North American" Tournaments.
The Premier Club will be a venue to sit back, relax and enjoy the ambiance of the International Ring while getting real time results from six competitive rings. It offers the up close and exclusive club experience for owners and riders to enjoy international show jumping at its best.
Packages for four, six, or eight are available, starting at $3,000 per week.
For more information or to book your tickets, please contact Stavroula at 403.974.4200.