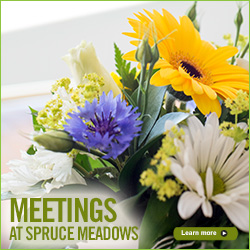 Media Releases
Mother's Day at Spruce Meadows
2012-05-10
Celebrate Mother's Day at Spruce Meadows
With Mother's Day fast approaching on Sunday, May 13th, chances are that your family has the card filled out, the
flowers bought and the breakfast planned for the lady of honour . . . but have you thought about what to do for the rest of this special day?
Spending time together is a wonderful way to show Mom how much you care about her. Spruce Meadows has so many scenic places and activities to enjoy, and is open from 9 AM to 6 PM on weekends. Why not take the entire family out for a leisurely walk through the grounds? Those who are fond of horses will be thrilled to visit the barns, the fishing devotee in the family is sure to love the pond, and everyone will appreciate time spent outdoors in the sunshine (see this weekend's amazing weather forecast here!). Spruce Meadows is extraordinary during the bustling tournament season, but the quiet days also offer much that is truly worth seeing.
There is another very important reason to visit Spruce Meadows on Mother's Day. Spring is the season for babies, so there are quite a few mothers and babies to see this weekend! We have two brand new foals (both fillies), goslings and ducklings—a beautiful sight that can't be seen any other time of the year.
Whether you choose to come for a stroll, visit the Tack Shop for the perfect gift, or pack a picnic lunch to eat while you watch horses out in the paddocks, Spruce Meadows has a lot to offer Moms (and the families that love them) this Mother's Day!