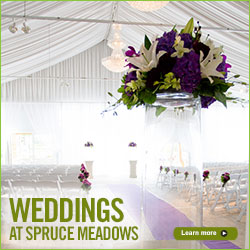 Media Releases
CBC Announces 3-Year Partnership
2012-05-16
CBC announces three-year partnership extension with Spruce Meadows through 2014 - the best show jumping remains on CBC
2012 coverage begins with the 'National' from June 9-10

CBC today announced it has extended its longstanding partnership with Spruce Meadows that will keep the world's best show jumping competitions on the network for the next three years. CBC has been showcasing international horse sports from Spruce Meadows for more than 20 years.

"Spruce Meadows is an iconic Canadian institution and an internationally renowned venue for show jumping, so we're thrilled to continue to showcase these incredible events for the next three years," said Jeffrey Orridge, CBC Executive Director of Sports Properties. "The competitors in these prestigious tournaments are true athletes and we're proud to give them a national platform to showcase what makes them the best in the world."

Each year of the extended partnership features three marquee tournaments taking place over three weekends throughout the summer months. In 2012, it all begins with the "National" on June 9-10, followed by the "North American" on July 7 and 14 and returns after an Olympic break with the Spruce Meadows "Masters" from September 8-9.

For many riders and horses, the "National" and "North American" tournaments will be a testing ground in advance of their Olympic journey and that goes for Canada's athletes as well. Led by 2008 Olympic Gold Medalist Eric Lamaze, who has won numerous events at Spruce Meadows, the competition will be fierce in the quest for victory.

"Our partnership with CBC Sports is one that we truly cherish. Spruce Meadows is proud to be able to continue our long partnership which enables us to bring Canadians top international sport and world leading production in HD via all of the CBC platforms," said Linda Southern-Heathcott, Spruce Meadows President and CEO. "Over the last two decades we have worked together to build brands that are recognized and highly respected in the world of sport."

Accessible Media Inc (AMI) also brings all the action to blind and partially sighted Canadians through live described simulcasts of each broadcast on AMI-tv.

---

About CBC/Radio-Canada
CBC/Radio-Canada is Canada's national public broadcaster and one of its largest cultural institutions. The Corporation is a leader in reaching Canadians on new platforms and delivers a comprehensive range of radio, television, Internet, and satellite-based services. Deeply rooted in the regions, CBC/Radio-Canada is the only domestic broadcaster to offer diverse regional and cultural perspectives in English, French and eight Aboriginal languages, plus seven languages for international audiences. In 2011, CBC/Radio-Canada celebrated 75 years of serving Canadians and being at the centre of the democratic, social and cultural life of Canada.

For further information, contact:
James Lamont, Veritas Communications
(Work) 416-482-2617; (Cell) 416-859-5870
lamont@veritascanada.com