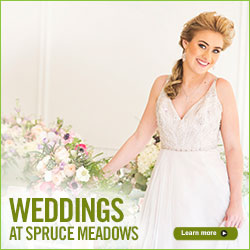 Media Releases
"National" Tournament 2012
2012-06-05
Start Your Summer with Sport at the "National" Tournament
Wednesday June 6th to Sunday, June 10th, 2012
The day fans and competitors have been waiting for all year has finally arrived! The "National" Tournament is the
starting gate of the our International season, an exciting time when horses arrive from all over the world to vie for more than $900,000 of prize money. The grounds are buzzing with arrivals and preparations for these spectacular weeks that
make Spruce Meadows internationally known as a world class show jumping venue.
With the Olympics coming up in London, sport federation and team officials will be watching team candidates closely—and the competition will be keen. Last summer the "National" boasted a wide range of competitors, from newly crowned Rolex World Cup Champion Rich Fellers (USA), veteran riders like Beezie Madden (USA), Eric Lamaze (CAN), McClain Ward (USA), and Ian Millar (CAN) and newcomers like Caitlin Zeigler (USA). Exciting events occur all week, culminating with the TransCanada Parcours de Chasse, the ATCO Structures & Logistics Double Slalom, and the Nexen Cup on the weekend. Click here for the full schedule to keep up with the action!
While the competitions are the main event here at Spruce Meadows, we do offer a wide range of other activities to do as well. Family Fun Night (presented by the real Canadian Superstore, Pepsi, and Country 105) is Friday, June 8th. Complimentary face painting and wagon and pony rides (located next to the Re/Max Family Centre) are also available on the grounds starting on Friday.
Exceptional shopping is available from an extensive range of select vendors within the Marketplace, and if you are in need of a good meal to keep you energized for a full day of competition, we have many booths and restaurants conveniently located throughout our grounds. For a change of pace from the rings, consider a browse through the Gallery on the Green. It currently has many fascinating exhibits, such as the Canadian Sports Hall of Fame, which features portraits of distinctive Canadian sports heroes by artist Gordon Milne and a celebration of Queen Elizabeth II's Diamond Jubilee.
So start your summer with sport—come to Spruce Meadows for the "National!"