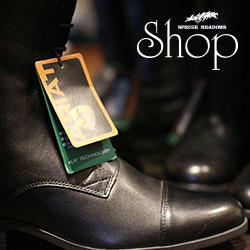 Media Releases
First International Win for Kessler
2012-06-07
First International Win For Kessler
(SPRUCE MEADOWS, Calgary, AB): The sun was shining on the Spruce Meadows International Ring for day two of the 2012 "National" Tournament.
With $32,000 on the line in the 1.45 meter ATCO Pipelines Cup, 67 horse/rider combinations took to the field. 11 riders made it through to the jump off on the 500 meter Guilherme Jorge (BRA) designed course with 15 jumping efforts. After a fast paced jump off, Richard Spooner (USA) rode into the winners circle aboard the 11 year old Dutch Warmblood mare Billy Bianca. Although this was his second win in as many days, Spooner has no intention of pursuing a spot on the 2012 U.S. Olympic team. "I'm not concerned with the trials, I'm not really looking for a spot on the team", Spooner commented yesterday.
Richard Spooner aboard Billy Bianca, winners of the ATCO Pipelines Cup. Photo Credit: Spruce Meadows Media Services.
ATCO Pipelines Cup - Top 10
1-
Richard Spooner
USA
Billy Bianca
2-
Mario Deslauriers
USA
Urico
3-
Jonathan McCrea
USA
Twister
4-
Lauren Hunkin
CAN
Larry 0146
5-
Tamie Phillips
CAN
Lerche
6-
Daniel Bluman
COL
Clyde
7-
Richie Moloney
USA
Slieveanorra
8-
Cara Raether
USA
Saskia 269
9-
Yann Candele
CAN
Game Ready
10-
Jenn Serek
CAN
Eleonora
36 combinations were back on the International ring for the $32,000 Prairie Mines & Royalty LTD Cup, set at 1.50 meters with 15 jumping efforts. The course, stretched over 530 meters of track, and designed by Guilherme Jorge (BRA), narrowed the combinations down to 7 in the jump off. McLain Ward (USA) grabbed the fastest time of 33.47 and double clear aboard Pjotter Van De Zonnehoeve, an 11 year old Dutch Warmblood gelding. This is a big win for Ward, who shattered his kneecap early in the new year, and is now getting back into the swing of competition. "It's always great to win at the best venue in the world", remarked Ward, the 2 time Olympic gold-medallist.
McLain Ward and Pjotter Van De Zonnehoeve jumping to victory in the Prairies Mines & Royalty Cup 1.50m. Photo Credit: Spruce Meadows Media Services.
Prairie Mines & Royalty Cup - Top 10
1-
McLain Ward
USA
Pjotter Van De Zonnehoeve
2-
Rodrigo Lambre
BRA
Chepepe La Escondida
3-
Beezie Madden
USA
Amadora
4-
Mac Cone
CAN
Capone I
5-
Jonathan McCrea
USA
Colorado
6-
Caitlin Ziegler
USA
Herald 3
7-
Eric Lamaze
CAN
Hunters Scedix
8-
Antonio Maurer
MEX
Eeckenrhoode S Uno Momento
9-
Caitlin Ziegler
USA
Valencia
10-
Daniel Bluman
COL
Sancha Ls La Silla
The 1.60 meter Spectra Energy Cup was the second leg of the Spruce Meadows Canadian Show Jumping Championship title. With 19 horse/rider combinations starting, 11 made it through on the 555 meter course with 15 jumping efforts, designed by Guilherme Jorge (BRA). Through an exciting jump off, 17 year old Reed Kessler (USA) emerged victorious aboard her 10 year old Belgian Warmblood mare, Cylana. Kessler was close to victory on day one of the Spruce Meadows National and was excited to experience her first victory on the International Ring. "I've always dreamed of getting to drive in the golf cart down to the end of the field, accept the big check and lift the trophy". Kessler is looking seriously at a spot on the US Olympic team for London in August. "I'm not going to compete this Saturday, but I think this week was a great setup for the trials next week," she said. The U.S. will hold 2 Olympic team trials next week at Spruce Meadows.
Reed Kessler, happy winner of the Spectra Energy Cup 1.60m. Photo Credit: Spruce Meadows Media Services.
Spectra Energy Cup - Top 10
1-
Reed Kessler
USA
Cylana
2-
Robert Whitaker
GBR
USA Today
3-
Eric Lamaze
CAN
Derly Chin De Muze
4-
Eric Lamaze
CAN
Verdi
5-
Federico Fernandez
MEX
Victoria
6-
Tiffany Foster
CAN
Victor
7-
Mac Cone
CAN
Unanimous
8-
Antonio Maurer
MEX
Callao
9-
Caitlin Ziegler
USA
Touch Down
10
Kent Farrington
USA
Uceko
The 2012 Spruce Meadows National continues through Sunday.
If you have any questions regarding this press release, please contact Spruce Meadows Media services at (403)974-4232 or email.