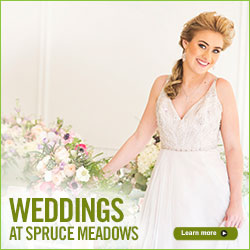 Media Releases
"Continental" Tournament 2012
2012-06-13
Spruce Meadows Summer Series continues on with the "Continental" Tournament
Thursday, June 14th to Sunday, June 17th, 2012
The momentum built up with the "National" Tournament continues as the Summer Series swings ahead to the "Continental" Tournament! A key ingredient in the Spruce Meadows Summer Tour, the "Continental" is an FEI CSI 4**** Tournament which features a World Cup Qualifier. It offers the unique opportunity for up-and-coming riders to challenge the world's veterans in the 1.45m, 1.50m, and 1.60m competitions, so fans are guaranteed to see some outstanding show-jumping action. And don't miss the opportunity to cheer on Olympic hopefuls during the final two trials for the Olympics, which will be held on Thursday, June 14th and Saturday, June 16th!
The "Continental" Tournament offers guests the perfect chance to watch world-class show jumping competitions and thrilling Olympic trials in a more relaxed atmosphere. Come to Spruce Meadows to watch the events and cheer on your favourites, but make sure to spend at least part of the day enjoying the rest of what we have to offer—spectacular scenery and a day out of the city!
Admission and parking are complimentary for this event. The Shuttle Bus service will be running free of charge on Saturday and Sunday, 10:00 am to 6:00 pm from the Somerset/Bridlewood C-Train. For full details about the "Continental" Tournament, click here.
Kyle King and Capone - 2011 winners of the CN Performance Grand Prix