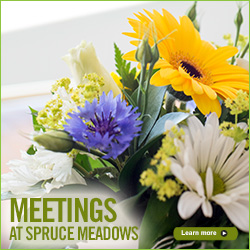 Media Releases
Media Advisory and Invitation
2012-06-14
The road to the London Olympics continues this evening at Spruce Meadows with the start of the Spruce Meadows "Continental". The second FEI Tournament in the Spruce Meadows Summer Series runs from today through Sunday and will feature 2 Olympic capability and team trials beginning this evening with the Husky Energy "Classic".
The second trial, the $200,000 CN Performance World Cup, will take place Saturday at the Meadows on the Green at 2:30. The $500,000 Spruce Meadows "Continental" offers complimentary parking and admission as well as reserved media seating.
Both events will feature an international entry including riders from Great Britain, the United States, Mexico, Colombia, Venezuela and Canada vying for coveted Olympic Team selection, certificates of capability and Rolex World Ranking points.
If you have any questions, please contcat Spruce Meadows Media at (403)974-4232 or email.