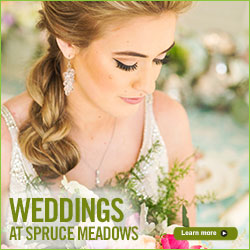 Media Releases
Fellers' First Day Back
2012-06-14
Fellers' First Day Back
Excitement filled the air for the start of the 2012 Spruce Meadows "Continental" Tournament!
With 54 horse/rider combinations in the 1.50 meter, $32,000 RSA Cup, the competition was fierce. The course designer Bob Ellis (GBR) set the one round competition with 14 obstacles, testing the riders' speed against the clock. Setting a clear round and time of 68.25 early on in the competition, Eric Lamaze (CAN) and his 10 year old Warmblood mare Coriana Van Klapscheut took the victory.
Eric Lamaze and Coriana Van Klapscheut, winners of the RSA Cup. Photo Credit: Spruce Meadows Media Services.
RSA Cup - Top 10
1-
Eric Lamaze
CAN
Coriana Van Klapscheut
2-
Tim Gredley
GBR
Unex Chamberlain Z
3-
Katherine Dinan
USA
Nougat Du Vallet
4-
Daniel Bluman
COL
Sancha LS La Silla
5-
Cara Raether
USA
Saskia 269
6-
Tamie Phillips
CAN
Lerche
7-
Nick dello Joio
USA
Scarface
8-
Jim Ifko
CAN
Penincula Vertigo
9-
Yann Candele
CAN
Carlotta Singular La Magnifica
10-
Jenna Thompson
CAN
Zeke
The 2012 summer series started on a high note for Rich Fellers (USA) on his first day back at Spruce Meadows. In the 1.60 meter $35,000 Husky Energy Cup, 19 horse/rider combinations took to the field to compete. The course, designed by Olympic designer Bob Ellis (GBR), saw only two combinations return for the jump off- veteran Beezie Madden (USA) and current Rolex World Champion Rich Fellers (USA). Fellers took home the victory aboard his 16 year old Irish bred stallion, Flexible, with a time of 51.23. Course Designer Bob Ellis (GBR) was pleased with the results of today's competition. "I'm not only designing the course for Spruce Meadows today," commented Ellis. "I may be testing some lines and things that I might want to use for the Olympic courses."
Rich Fellers and Flexible jumping to victory in the Husky Energy Classic. Photo Credit: Spruce Meadows Media Services.
Husky Energy Classic - Top 10
1-
Rich Fellers
USA
Flexible
2-
Beezie Madden
USA
Coral Reef Via Volo
3-
Reed Kessler
USA
Cylana
4-
Mario Deslauriers
USA
Cella
5-
Lucy Davis
USA
Nemo 119
6-
Robert Whitaker
GBR
Catwalk IV
7-
Mario Deslauriers
USA
Urico
8-
Richard Spooner
USA
Cristallo
9-
Charlie Jayne
USA
Chill RZ
10-
Beezie Madden
USA
Simon
The red ribbon was not the only thing the Americans were after today. The Husky Energy Cup doubled as a trial for choosing the 2012 US Olympic team. Fellers is savouring the victory, as both his first victory back at Spruce Meadows and for his chances of making the Olympic team. "It's a dream any high level athlete has, to compete in the Olympics. It helps that the trials are here, my horse loves to jump at Spruce Meadows. I always get great results with him here," said Fellers.
If you have any questions regarding this press release, please contact Spruce Meadows Media Services at (403) 974-4232 or email.