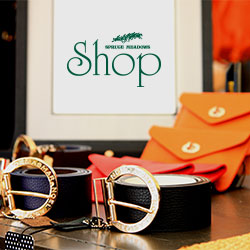 Media Releases
CN Success For Fellers
2012-06-16
CN Success for Fellers
It was a celebration of the Red, White and Blue, Saturday at the 2012 'Continental' Tournament at Spruce Meadows.
53 horse/rider combinations took to the field, designed by Bob Ellis (GBR) for the 1.45 meter, $32,000 Talisman Energy Cup. 17 combinations moved into the jump off, clearing the 440 meter course with 14 jumping efforts. Megan Nusz (USA) took the victory, with double clear rounds and a jump off time of 41.53. Nusz was thrilled with the win aboard Dynamo, her 9 year old Belgian Warmblood gelding, which was her first FEI win. "I've been coming to Spruce Meadows since I was a little girl" she commented. "And when I walked into the International Ring last week, for the first time ever, I just kept thinking 'This is the dream'".
Bob Rooney Executive Vice President Legal & General Counsel, Talisman Energy presenting the winner's cheque to Meagan Nusz. Photo credit: Spruce Meadows Media Services.
Talisman Energy Cup - Top 10
1-
Meagan Nusz
USA
Dynamo
2-
Reed Kessler
USA
Onisha
3-
Eric Lamaze
CAN
Wang Chung M2S
4-
Yann Candele
CAN
Game Ready
5-
Alec Lawler
USA
Glen Devon
6-
Cara Anthony
USA
Woodpecker De Villars
7-
Darragh Kerins
IRL
S L Zepplin
8-
Lauren Tisbo
USA
La Centa
9-
Kent Farrington
USA
Venus
10-
Robert Whitaker
GBR
Waterstone
Things were heating up with both the competition and the weather for the 1.60, $200,000 CN Performance World Cup Qualifier Grand Prix. The course, designed by Olympic course designer Bob Ellis (GBR) stretched over 540 meters, and saw 36 horse/rider combinations over the 16 jumping efforts. 7 combinations moved into the jump off, which was guaranteed to be fast paced and exciting. With 6 out of the 7 jump off riders coming from the United States, the race was on for selection of the 2012 US Olympic team. In the end, FEI World champion Rich Fellers (USA) and his 16 year old Irish Bred gelding Flexible took the second spike of the CN Precision Series with double clear rounds and a time of 41.29. With the US Olympic team being announced within the next several days, Fellers said that winning the last Olympic trial took a huge amount of pressure off. "It does relieve the pressure, we've been going for quite a while, so now we can just relax and listen to what George Morris (USA Chef D'Equipe) tells us to do." Taking second place, Kent Farrington (USA) couldn't help but feel a little disappointed, after winning the first leg of the CN Precision Series, the CN Reliability Grand Prix. "It's just how show jumping goes. You go in there and do your best, and then someone comes in and beats your best. It's how the sport goes" said second place Farrington. "But if you're going to lost to somebody, well, Rich is the world cup champion!"
Rich Fellers winner of the CN Performance Grand Prix, second leg of the CN Precision Series. Photo Credit: Spruce Meadows Media Services.
CN Performance Grand Prix - Top 10
1-
Rich Fellers
USA
Flexible
2-
Kent Farrington
USA
Uceko
3-
Reed Kessler
USA
Mika
4-
Katherine Dinan
USA
Nougat Du Vallet
5-
Beezie Madden
USA
Simon
6-
Reed Kessler
USA
Cylana
7-
Tiffany Foster
CAN
Victor
8-
Eric Lamaze
CAN
Derly Chin De Muze
9-
Robert Whitaker
GBR
Catwalk IV
10-
Charlie Jayne
USA
Chill RZ
Sport continues tomorrow during the 2012 Spruce Meadows 'Continental' Tournament, with the $60,000 Investors Group Cup at noon, followed by the $32,000 McDaniel & Associates Cup at 2 o'clock PM.
If you have any questions about this press release please contact Spruce Meadows Media at (403)974-4232 or email.