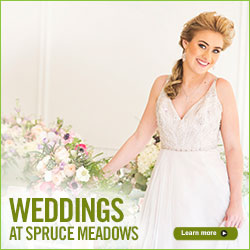 Media Releases
2012 US Olympic Team Named at Spruce Meadows
2012-06-17
2012 US Olympic Team Named at Spruce Meadows
The 2012 Spruce Meadows "Continental" Tournament wrapped up today, capping an exciting week of competition! 48 horse/rider combinations took to the field for the $60,000 Investor's Group Cup. The group was narrowed down to 10 combinations over the 485 meter course, with 15 jumping efforts. Kent Farrington (USA) added another Spruce Meadows win to his list, with double clear rounds and a jump off time of 46.70. With 4 major wins in the past 2 weeks here at Spruce Meadows, Farrington is pleased with his results. "I'm off to a great start," he commented. "My horses are going really well, I think I have some nice horses that are really ready to go".
Brian Mennis, Regional Director Investors Group, presenting the winners cheque to Kent Farrington. Photo Credit: Spruce Meadows Media Services.
Investor's Group - Top 10
1-
Kent Farrington
USA
Voyeur
2-
Cara Raether
USA
Saskia 269
3-
Caitlin Ziegler
USA
Valencia
4-
Katherine Dinan
USA
Nougat Du Vallet
5-
Beezie Madden
USA
Amadora
6-
Lauren Tisbo
USA
King Kolibri
7-
Caitlin Ziegler
USA
Touch Down
8-
Leslie Howard
USA
Utah
9-
Eric Lamaze
CAN
Coriana Van Klapscheut
10-
Ashlee Bond
USA
Cadett 7
Phil Welch, President and Managing Director, McDaniel & Associates and today's winner: Daniel Bluman aboard Vichy. Photo Credit: Spruce Meadows Media Services.
McDaniel & Associates Parcours de Chasse - Top 10
1-
Daniel Bluman
COL
Vichy
2-
Leslie Howard
USA
Lennox Lewis 2
3-
Rich Fellers
USA
McGuinness
4-
Beezie Madden
USA
Vanilla
5-
McLain Ward
USA
Esplanade 7
6-
Mario Deslauriers
USA
Whistler
7-
Darragh Kerins
USA
Hot Wheels
8-
Carla Diewert
CAN
Vaquero
9-
Jim Ifko
CAN
Peninsula Vertigo
10-
Rich Fellers
USA
Colgan Cruise
It was an exciting day for Americans: the 2012 US Olympic team was named after two of the Olympic trials were held during the Spruce Meadows Summer Series. McLain Ward, Rich Fellers, Beezie Madden and Reed Kessler will be riding under the stars and stripes at the 2012 Olympics in London. This is a first for both Fellers and Kessler, while Madden and Ward have both been to the Olympics twice before.
US Olympic team, from left to right: Reed Kessler, Rich Fellers, Beezie Madden and McLain Ward. Photo Credit: Spruce Meadows Media services.
The pros get a week off at Spruce Meadows while the amateurs saddle up for the 2012 "Skyliner", which begins on Wednesday June 20th.
If you have questions about this release please contact Spruce Meadows Media at (403)974-4232 or email.