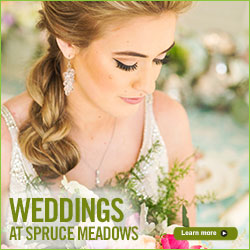 Media Releases
"Skyliner" Tournament 2012
2012-06-20
Watch Future Champions Shine at the "Skyliner" Tournament
Wednesday, June 20th to Sunday, June 24th
Have you ever wondered how show jumpers develop their skill levels? For junior and amateur riders hoping to gain experience, events that offer a high calibre of competition are perfect opportunities to help challenge both themselves and their horses. The "Skyliner" Tournament was created in 2006 precisely to focus on those athletes; those seeking the Spruce Meadows experience for themselves and their horses under a world championship format.
What does competition in a world championship format mean? The main element of the "Skyliner" Tournament is the Prix des Nations, a team event seen in many high profile sports and the Olympics. Riders and horses are assembled into teams, and their aggregate time and faults (in competitions of varying heights) determine whether or not they progress to the next round. There are also assorted Grand Prix competitions and the culmination of the "Skyliner" Tournament - the Final Four competition. The Final Four is a unique test of the rider's horsemanship and the horse's obedience and adaptability. In the first round, a rider and horse get to participate together: in subsequent rounds, each competitor must pilot another rider's horse around the track. This challenging format makes for fierce competition and a lot of fun for all involved. For further information and a full schedule, click here.
With the weather warming up as summer comes on, Spruce Meadows is the ideal place to spend a day away from the city enjoying both the sport and the scenery! Admission and parking are complimentary for the "Skyliner" Tournament.