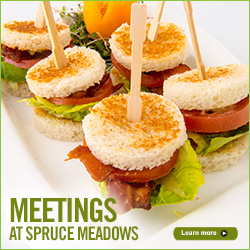 Media Releases
Welcome Series
2012-07-26
AUGUST WELCOME SERIES
The Welcome Team has adjusted the Welcome dates in August to reflect the demand. There will be one Welcome in August to be held on Wednesday the 29th.
We will be jumping in the North American Ring and courses will option many of the natural elements.
Jumping will commence at 1:00pm with the 1.10m and go up to 1.30m aiming for a start time of 5:00pm for the 0.7m going up to 1.0m. Sign up for your division at the ring as soon as you can for optimum timing.
Participants are highly encouraged to pre-purchase their tickets by calling 403-974-4200 by Monday August 27th. There are a few advantages in pre-purchasing your tickets not the least of which is a discount of $5.00 per ticket. Unused tickets from this day are valid for use in October.
Please refer to the Welcome page on the Spruce Meadows website for Rules and Regulations and Waiver.
Follow Spruce Meadows on twitter, Facebook and YouTube.