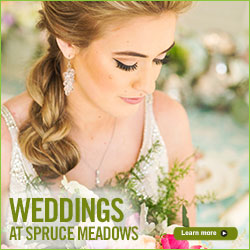 Media Releases
Important Welcome Update
2012-08-28
Important Welcome Update
Due to very positive pre-purchase numbers and an earlier sunset, the Welcome Team have moved the Wednesday Welcome start time to 11:00 am at the North American Ring. We will start with 1.10m, 1.20m and 1.3m and will work to start at 3:30pm for the 0.7m, 0.8m, 0.9m and 1.0m.
We look forward to seeing you tomorrow.
Please refer to the Welcome page on the Spruce Meadows website for Rules and Regulations and Waiver.
Follow Spruce Meadows on Facebook, Twitter and You Tube