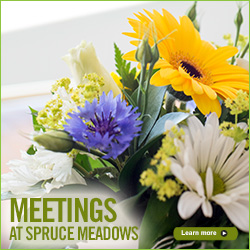 Media Releases
Unveiling of a Canadian Sports Hero
2012-09-04
Unveiling of a Canadian Sports Hero
It was a fitting start to the 2012 Spruce Meadows "Masters'" Tournament: after decades of international-level sport,
ten-time Olympian Ian Millar was awarded a portrait in the Canadian Sports Heroes Collection.

Turner Valley artist Gordon Milne began painting the series in 2002. The collection now features 15 of Canada's greatest sports icons, ranging from swimmers to boxers, and now includes an equestrian athlete. After 23 years of partnership with Ian Millar, BMO Financial Group Senior Vice President of the Prairies division, Robert Hayes, was on hand to unveil the newest portrait.

The portrait wasn't the only thing BMO Financial Group was sponsoring in Millar's name. In deference to Millar's dedication to therapeutic riding for those with mental and physical disabilities, $10,000 was donated to the Canadian Therapeutic Riding Association on behalf of Millar; $1,000 for each of his Olympic Team appearances. The athlete was thrilled, commenting "I've seen the good riding can do for a person. Riding can heal, and everyone should have the chance to get on a horse."

Gordon Milne was present to unveil the portrait with Millar. When asked about how he created the final piece, he replied "You can sense the kind of person people are when you spend time with them. After spending time with Ian, it was clear to me who he was. He loves his family, he loves his horses. Ian is a man who strives for excellence and expects excellence from those around him."

The collection will be on display at Spruce Meadows throughout the "Masters" Tournament, which runs Wednesday through Sunday.
From left to right: Robert Hayes, BMO Financial Group Senior Vice President of the Prairies Division, Gordon Milne and Ian Millar. Photo credits: Spruce Meadows Media Services.
If you have any questions, please contact Spruce Meadows Media Services at (403)974-4232 or email.