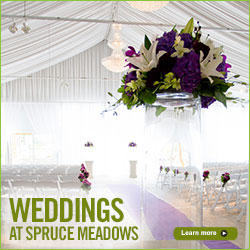 Media Releases
Yougest Rider in History Wins the CN International
2012-09-09
Youngest Rider in History Wins the CN International
The biggest day in show jumping saw the youngest CN International winner in History in an exciting finale to the 2012 Spruce Meadows tournament season.
With $1,000,000 on the line in the CN International Grand Prix, 30 horse/rider combinations entered the International ring. Round one, designed by Leopoldo Palacios (VEN) saw only one clear round through the 17 jumping obstacles stretched over 580 meters of course. Round two began with the top twelve riders returning to the changed course, with 480 meters of track and 14 jumping obstacles. History was made as 19 year old Olivier Philippaerts (BEL) completed the two tracks with a combined two faults aboard his 10 year old Warmblood gelding, Cabrio Van De Heffinck. Beezie Madden (USA) took second place riding Simon, and Philippaerts father, Ludo Philippaerts (BEL) was third on Challenge Van De Begijnakker. "This was incredible," Philippaerts commented after the win. "My horse was amazing today, very fresh through each round. I feel like this is just the beginning, I can't wait for next year." Along with the combined paycheck of $438,000, it was a special moment for the Philippaerts family. "It's a dream to ride with your two sons somewhere like Spruce Meadows," said Ludo Philippaerts. " For one of them to win the biggest competition in the world? There are no words."
Olivier Philippaerts and Cabrio Van De Heffinck, winners of the CN International Grand Prix. Photo credits: Spruce Meadows Media Services.
CN International Grand Prix - Top 10
1-
Olivier Philippaerts
BEL
Cabrio Van De Heffinck
2-
Beezie Madden
USA
Simon
3-
Ludo Philippaerts
BEL
Challenge VD Begijnakker
4-
Leslie Howard
USA
Utah
5-
Reed Kessler
USA
Cylana
6-
Roger-Yves Bost
FRA
Nippon D Elle
7-
Philipp Weishaupt
GER
Catoki
8-
Jeroen Dubbeldam
NED
BMC Quality Time TN
9-
Harrie Smolders
NED
Exquis Walnut De Muze
10-
Francois Mathy
BEL
D Atlantique Royale
The day began with a tribute to one of the greatest show jumping horses of all time: Hickstead. A statue made in Hickstead's likeness was unveiled to a capacity crowd. In a touching ceremony, Eric Lamaze (CAN) was inducted into the Spruce Meadows Hall of Fame along with his famed mount who passed away in November 2011. The bronze by Mary Sand, will stay permanently at Spruce Meadows as per Lamaze's wishes.
Eric Lamaze pointing at Hickstead's statue that was unveiled today on the International Ring, joined by John Fleischhacker (co-owner of Hickstead) and artist Mary Sand. Photo credits: Spruce Meadows Media Services.
With the Spruce Meadows FEI calendar done for the year, the International Ring will soon be covered for another Calgary winter, but not before new turf is laid for the 2013 season. Spruce Meadows is open every day of the year with the indoor season beginning in October followed by the Spruce Meadows International Christmas Market in November.
If you have any questions regarding this press release please contact Spruce Meadows Meda (403)974-4232 or email.