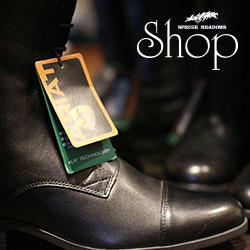 Media Releases
Special Awards
2012-09-24
Spruce Meadows Special Awards
2012 "Masters" Tournament
It has been a proud tradition at Spruce Meadows to recognize dedication and excellence. During the "Masters" Tournament, several special awards are given to very deserving recipients. In 2012, the awards and recipients include:
Xerox Junior of the Year Award
This award is given to a rider 18 years and under, who throughout the tournament year at Spruce Meadows, accumulated the most scholarship points in 1.40m Jumper events held during the "National," "Continental," "Skyliner," "Canada One," "North American" and "Masters" Tournaments.
The recipient of the Xerox Junior of the Year Award in 2012 is Amelia Vernon.
RSA Scholarships
Two scholarships of $1,000 each are awarded to two riders in the 1.30m division, who in the opinion of the Judges, are the most consistent at the Spruce Meadows "Masters" Tournament. The Judges look at style and turnout, as well as the actual successes in the various jumping competitions. Taking all of these factors into account, the Judges then decide the two leading 1.30m Jumper Riders who will gain the most benefit from the Scholarships.
The recipients of the RSA Scholarships in 2012 are Carly Kist and Georgia Hunt.
The Society of Hannoverian Warmblood Breeders Award
The Verband Hannoverscher Warmblutzuchter e.V. founded in 1922, is the largest horse-breeding society in Europe. Spruce Meadows is one of the Society's representatives in North America. The award, a handsome plaque, is given to the horse who, in the opinion of a panel of Judges, is the outstanding registered Hannoverian horse competing at the "Masters" Tournament. In making their decision, the Judges evaluate the horse as follows: performance (75%) and conformation (25%). In the event of a tie, the general turnout of the horses in question will determine the winner. Any horse which has not won the award within the past year is eligible.
In 2012, the award was presented to Embassy II, owned by Hans Dieter Derher.
Rolex Canada 'Commitment to Excellence Award'
Rolex has a long history of association with the finest of equestrian competitions such as Grand Prix Show Jumping, Dressage and Three Day Eventing. The people of Rolex understand that for these exciting athletic events to be presented, there must be enormous amounts of work, dedication and organization by people behind the scenes. In keeping with the Rolex tradition of excellence, each year, Rolex Canada will present a beautifully crafted Rolex watch to the individual(s), selected by a panel of judges, who goes far beyond what anyone expects. The world's finest timepiece is a fitting reward for the person who, like Rolex, is totally committed to excellence.
In 2012, the Rolex Canada 'Commitment to Excellence Award' was presented to Barry & Carol Ashton of the Pegasus Group of volunteers.