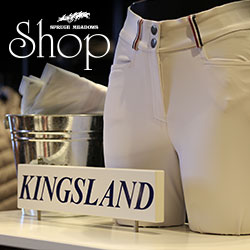 Media Releases
Spruce Meadows Celebrates 'OKTOBERFEST'
2012-10-24
Spruce Meadows Celebrates 'OKTOBERFEST'
The snow may have covered the grounds, but the horses are still jumping at Spruce Meadows! The 'Oktoberfest' Tournament begins tomorrow morning, marking the last week of sport at Spruce Meadows this year. The event will run from Thursday, October 25th through Sunday October 28th. Complimentary admission and parking will be offered to visitors, compliments of Spruce Meadows and its sponsors.
With close to 200 horses on the grounds, the 'Oktoberfest' Tournament hosts riders of all ages and abilities. The tournament features impressive prize money in excess of $50,000 in events sponsored by Fugro, Valley Hay and Cattle, RBC Financial and Cougar Construction.
Why not join us Friday night to enjoy the entertaining and exciting Beaver Drilling Puissance, where horse and rider attempt to jump a progressively higher wall while in Halloween inspired livery. It's a fan, sport and social favourite not to be missed.
Come in from the autumn chill and enjoy the rising stars of the sport compete at the premier Show Jumping venue in the world. Lunch and dinner buffets are featured daily throughout, right next to the action. Click here for a full schedule of events.
Brian Krausert, President, Beaver Drilling and his wife Dr. Donna Wood presenting the trophy to Carla Diewert aboard Vaquero, winners of the Beaver Drilling Puissance in 2011. Photo credit: Spruce Meadows Media Services.
While this is the last week of sport at Spruce Meadows until the New Year, the 13th annual Spruce Meadows International Christmas Market, presented by TELUS is not far off. This year it will be open November 16th-18th and November 23rd-25th. With over 200 exhibitors, everyone in the family will be able to find the perfect gifts for their loved ones. There is something for kids of all ages including a petting zoo, pony rides, entertainment and Santa's reindeer, stabled in Reindeer Alley throughout.
If you have any question regarding this press release please conatct Spruce Meadows Media Services at (403) 974-4232 or email.