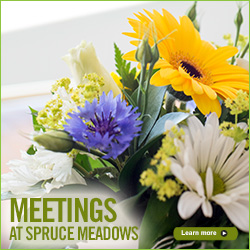 Media Releases
It's Begining to Look a Lot Like Christmas
2012-11-15
It's Begining to Look a Lot Like Christmas
Tomorrow marks the opening day of the 2012 Spruce Meadows International Christmas Market, presented by Telus.
A festive and joyful holiday experience, Spruce Meadows is the place for families to shop, relax and enjoy the start of the Holiday Season. With over 200 vendors from across Canada and around the world featured in four indoor venues, there's a gift for everyone on your list! Enjoy the sounds of Christmas carols in the air as you browse through booths filled with hand-made jewellery, home decorations, festive clothing, food and much more.
Regional performing groups and entertainment add to the atmosphere at Spruce Meadows, taking to the stage in the Equi-Plex to share the Christmas spirit through song and dance.
Shoppers looking at booths in the Equi-plex. Photo Credits: Spruce Meadows Media Services
Although Santa is still in his workshop at the North Pole, his reindeer have come to visit Spruce Meadows! Always a thrill for the kids, reindeer alley hosts Santa's four-legged friends throughout the Spruce Meadows International Christmas Market.
Reindeer aren't the only furry creatures to join the festivities at Spruce Meadows! Pony rides are available daily in the riding hall, along with a petting-zoo.
Santa's Reindeers out for a visit. Photo Credits: Spruce Meadows Media Services.
Once you've competed your shopping, grab a hot chocolate and explore the grounds. With over 74 kilometres of Christmas lights bringing seasonal magic to the grounds. Spruce Meadows is literally "aglow" with the Christmas spirit beginning November 16th.
If you have questions about this press release please contact Spruce Meadows Media at (403) 974-4232 or email.