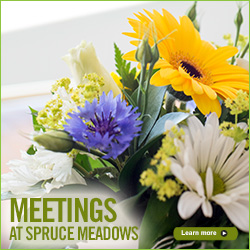 Media Releases
2013 Exhibit Bookings
2013-01-31
2013 Exhibits Program Online Bookings
The Exhibits team is very pleased to announce that the website will be live for Exhibitor renewals on February 01, 2013.
All vendors who have no changes to their requirements from last year have until March 4th to rebook their booths. Returning vendors from the Marketplace will all be located in the Gallery on the Green.
After March 4th, vendors who would like to make changes to their booth location and new applications will be processed.
Brochures for each event can be viewed on-line at www.sprucemeadows.com/exhibitor/