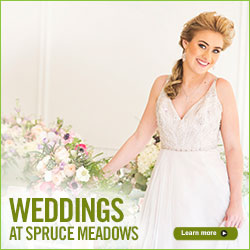 Media Releases
February Classic I & II @ Spruce Meadows
2013-02-08
February Classic I & II @ Spruce Meadows
Welcome back to Spruce Meadows! With the 2012 season a pleasant memory, the 2013 jumping season is just getting started. Many new and exciting changes are coming to Spruce Meadows, starting with the 2013 February Classic tournaments!
Spanning over two weekends, these tournaments offer something not previously seen at Spruce Meadows. Divisions ranging from 0.5 meter up to 1.30 meter allow riders of all ages and abilities to gain experience at an internationally acclaimed venue. Riders will be showing the skills they've learned over the winter break, and warming themselves up for an exciting 2013 season.
With complimentary parking and admission, bring your family and friends to watch as riders start their 2013 season. With warmer weather expected in Calgary this weekend, grab a friend and wander the grounds, where the melting snow shows that spring is just around the corner!
Starting on February 9-10th, and continuing the 23-24th, these tournaments are the start to a great season at Spruce Meadows.
Winter at Spruce Meadows. Photo Credit Spruce Meadows Media