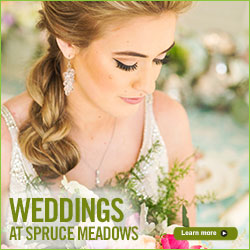 Media Releases
Lifetime Achievement Award
2013-02-12
Southerns Honoured for Lifetime Achievement
Equine Canada held their Annual Convention February 6-11, 2013 in Ottawa, Ontario, and presented its prestigious year-end awards at a gala event on Friday February 8th.
Among the many prized awards that recognized achievements in breeding and sport was the Lifetime Achievement Award. This award is given to an individual(s) whose contributions to the Canadian equestrian community are considered exceptional by their peers and whose long-term service and dedication have contributed directly to the ongoing growth and development of Canadian equine sport and industry.
The recipients of the 2012 Lifetime Achievement Award were Marg and Ron Southern of Calgary, Alberta. This recognition of the realization of a dream that started off in the modest fields of a feed lot and grew to the most celebrated show jumping venue in the world meant a great deal to Ron and Marg Southern. "We are deeply touched, honoured and proud to accept this recognition – not just for us but on behalf of our family, our outstanding professional staff, our volunteers, our fans, our sponsors and the dedicated athletes who have supported and helped us so much over the years.
"Our lives and accomplishments, which are so graciously being recognized, have been a wonderful and marvellous adventure. Spruce Meadows evolved because our family wanted to put something back into a community that would be lasting and meaningful for all the opportunities and advantages we have had as Canadians – in some small way to say thank you.
"We know that there are many more important endeavours; still Spruce Meadows somehow has magnificently touched the lives of people from all walks of life by introducing an enthusiasm and purpose for our endeavours. Spruce Meadows over the last four decades has attempted to evolve, mature and take its place on the national and international stage – not only as a sporting venue but as a place for good friendship, good commerce, and good sport. The horse has made this all possible. This brave, noble animal spans the generations and is enjoyed by people from all countries and all ages, from children to grandparents. It is because of the love of the horse that we all join together."
All of us at Spruce Meadows would like to thank Equine Canada most sincerely for recognizing Ron and Marg Southern with the Lifetime Achievement Award.
The award was presented by Equine Canada President Michael Gallagher to Joanne Nimitz, Vice President of Administration, Spruce Meadows representing Ron and Marg Southern.