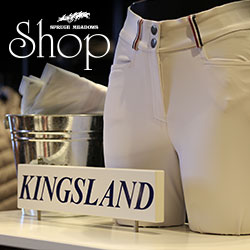 Media Releases
2013 Early Bird Special
2013-03-12
Spruce Meadows is pleased to offer a six week Summer Series stabling package commencing May 31, 2013 and ending July 15, 2013. All of the available 900 stalls are of paramount quality and are positioned on asphalt floors.

If you submit your completed entries (in full) before 5:00 pm MDT on April 5, 2013 each horse stall** you book will be discounted by 20%. With this discount, the cost of a Summer Series Stall for the six week period would be $2,400 CDN.

In order to be eligible for the discount, the following conditions must be fulfilled on EACH entry form:

- Entries must be received by Spruce Meadows BEFORE 5:00 pm MDT on April 5, 2013.
- Each horse must be entered for the duration of the Summer Series (horse substitutions, shared stalls and scratches are not eligible).
- Each horse must compete at the 'National' CSI 5*-W and 'Pan American' CSI 5* tournaments. The discount will appear on the close-out of the 'Pan American' CSI 5*.
- Each entry must be completed in full. This includes all of information about the horse, rider and owner, inclusive of addresses and ALL membership numbers.
- Horses must be nominated for at least one division (outside of clear rounds) for each week.
- The waiver must be signed.
- Each entry must be accompanied by full payment, including signature if appropriate.
Spruce Meadows will NOT call to obtain missing information. Please ensure the entry form is filled out IN FULL or you will not be eligible for the discount.

2013 Prize Lists and Entry Forms are available now for download by clicking here.

Questions? Please email the Tournament Office at email.

** Please note that tack stalls are not eligible for this discount