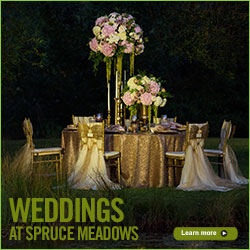 Media Releases
Spring Fever at Spruce Meadows
2013-03-13
Spring Fever at Spruce Meadows
With winter "allegedly" on its way out the door, the jumping season at Spruce Meadows is just starting to heat up!
With three indoor tournaments already completed, up-and-coming riders from throughout the region are tacking back up for the 'Spring Welcome' Tournament. Starting tomorrow, March 14 and continuing until Sunday, March 17, the tournament is a great way for junior and professional riders alike to prepare themselves for the upcoming outdoor season. Come to Spruce Meadows and support the horses and the riders at the premier venue in the world, with complimentary parking and admission.
If you can't make it out to the grounds this weekend, be sure to catch the action on our live webcam.
As the snow continues to melt, it's time to start thinking of the outdoor season! With less than two months until the first outdoor tournament of 2013, the 'May Classic' prize list is now available online and for those looking towards the Spruce Meadows Summer Series, the prize list is now posted online too!
A rider waits at the gate for her round in the equiplex. Photo Credit: Spruce Meadows Media