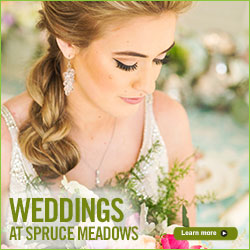 Media Releases
Spring Gardening!
2013-03-19
Calgary Horticultural Garden Show
Although it may appear far away when all you can see out the window is snow; spring is just around the corner!
For all those with itchy, green thumbs who wish to throw off the mantle of winter ennui; a ray of sunshine in the form of the Calgary Horticultural Garden Show is not far away.
Mark April 13th & 14th on your calendar and make plans to join fellow plant, flower and tree lovers at Spruce Meadows for the best garden show in Calgary, hosted by the Calgary Horticultural Society. Hours are 9:00am to 5:00pm both days; tickets can be purchased ahead of time from their website or in cash at the door. As always, parking at Spruce Meadows is free! Admission gives you access to dozens of high-profile gardeners through the Speakers Series and How-to Clinics along with hundreds of exhibitors, children's activities, free consultations with veteran gardeners and much more!
Shake off the hoar frost and get inspired for all your gardening projects!