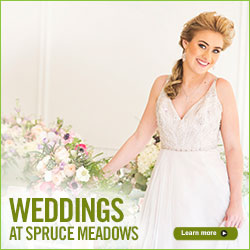 Media Releases
Discount for April Classic II and May Classic Entries
2013-04-04
Discount for April Classic II and May Classic Entries!
Team Spruce Meadows is thrilled to be launching our 2013 outdoor show jumping season – we hope you will join us!
We are happy to introduce a 10% discount for all FULLY COMPLETED April Classic II and May Classic entries received by Tuesday April 9th.
Weather permitting; the May Classic will be held outdoors, with the 1.30m and 1.40m competitions on grass in the Meadows on the Green Ring, all other divisions will be held in the Main Sand and Chinook rings. Competitions will move indoors if the weather is inclement.
May entries will require a negative coggins drawn within the past 6 months and current for the duration of the tournament.
The April Classic II will be the first of our 2013 outdoor Tournaments and as such, will require a current negative coggins, drawn within the last 6 months. Competitions will be held in the Chinook Sand Ring for this tournament, weather permitting.