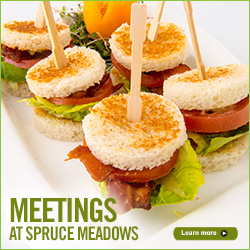 Media Releases
Early Birds
2013-04-12
Don't forget to complete your entries!
Team Spruce Meadows is thrilled with the resounding response to the "early bird" opportunity. Thank you to all of the athletes who participated in the "early bird" special!
We invite and encourage all athletes who would like to compete at Spruce Meadows this summer for part or all of the 2013 Spruce Meadows Summer Series to submit your entries by Friday April 19th.
The 2013 show jumping season at Spruce Meadows should bring great sport for all levels of athletes. Spruce Meadows is offering great prize money in a variety of show jumping events – including derbies and presenting jumping competitions in a variety of different rings with top course designers.
Team Spruce Meadows is excited to welcome athletes from around the world to compete at the 2013 Spruce Meadows Show Jumping Summer Series for part or all of the six weeks.