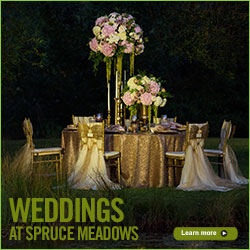 Media Releases
They're Off!
2013-05-02
They're Off!!
We love being able to count the signs of spring at Spruce Meadows: tulips pushing through the loam in the flower beds, leaves bursting forth on the trees, foals in the pasture AND...The tarps coming off the International Ring!
As many of you may recall, the Grounds Team took up and replaced all the footing in the International Ring the day after the 2012 Masters completed. This was done to provide the best possible footing for our equine athletes – however, there has been much nail-biting over the winter as to what was going on under the tarps! Today was the day of reckoning and we all breathed a sigh of relief at what we saw...
Come on down and see for yourself!