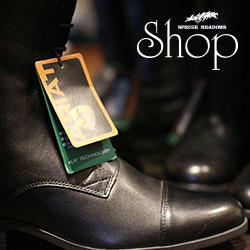 Media Releases
Kent Farrington and Uceko Repeat Winning Performance in $200,000 CN Performance Grand Prix CSI-W
2013-06-16

Kent Farrington and Uceko Repeat Winning Performance in
$200,000 CN Performance Grand Prix CSI-W
Beezie Madden and Coral Reef Via Volo Top 1.50m
For Immediate Release
Calgary, AB – June 16, 2013 – The 'Continental' Tournament at Spruce Meadows finished with a fantastic day of competition, including another big victory for Kent Farrington and Uceko in the $200,000 CN Performance Grand Prix CSI-W, the second week in a row that they have won the grand prix. Beezie Madden (USA) and Coral Reef Via Volo won the $60,000 Great-West Life Cup 1.50m. The Spruce Meadows Summer Tournaments will continue on June 25-30 with the 'Canada One' Tournament CSI-W 4*.
Course designer Leopoldo Palacios of Venezuela tested the riders today with a technical track, but six were able to find the clear path to the jump-off. First in was McLain Ward (USA) on Rothchild, owned by Sagamore Farm. They were the fastest pair of the day in 44.327 seconds, but it came at the price of four faults at the second jump. They would finish in fifth place.
Watch an interview with Kent Farrington!
Reed Kessler (USA) and Cylana were clear in 46.810 seconds, but it wasn't quite enough to pull out the win today. Kessler has had a string of second place finishes at this year's Spruce Meadows, including one earlier in the morning in the 1.50m with Mika.
She laughed, "I'm living under some kind of a curse; I've been second about 25 times in a row now! I actually had a feeling he would beat me, going after me. I came in a little fast to that combination in the first round, and she was quite good to me. I wanted, out of that big gallop, to really make sure I gave her a better chance this round. He did the big 10 strides to (fence) 10c, which I could have done. But that's kind of the way it goes early in the jump-off. It's just making me hungrier I guess!"
Reed Kessler and Cylana. Photo © Spruce Meadows Media Services.
Kessler praised Cylana, an 11-year-old Belgian Warmblood mare by Skippy II x Darco, and their teamwork. "She was fantastic. I thought I wasn't totally spot-on in the first round. It's part of being a team. She was definitely on today and she carried me through the first round. I'm happy with my second place finish. I wish I could have beaten him, but there are still a few weeks left," she said with smile.
Farrington and Uceko were next in the jump-off, and they set out in a huge gallop before they even crossed the start timers. Everything came up smoothly for them, and they left out a stride to a wide oxer, the second to last fence in the jump-off. They stopped the timers in 44.469 seconds to take the lead, which no one would be able to catch.
Kent Farrington and Uceko. Photo © Spruce Meadows Media Services.
Farrington said rather than trying to only catch Kessler's time, he was also trying to think about the fast horses and riders who would follow him. "Beezie was on the horse that won the World Cup Finals and is one of the best riders in the world on a fast horse. Charlie Jayne has a very big gallop on that horse, similar to mine. I thought they were both real threats coming after me," he acknowledged. "It was more about sticking to my own strategy (and) using my horse's strengths, which are his bravery and his great gallop. I just let him open up right from the start and didn't let up."
Beezie Madden (USA) and Abigail Wexner's Simon wouldn't threaten Farrington's time. They were clear, but their slower time of 48.197 seconds would leave them in fourth place.
Charlie Jayne and Alex R. Jayne's Chill R Z, a 10-year-old Zangersheide stallion by Chellano Z x A Lucky One, had a dramatic start to their jump-off with a long gallop around the ring before the first jump, but it didn't quite work out as planned. After drifting right after the first jump, they added in a stride from what Farrington did in the first line. Following that, Jayne let off the gas pedal a bit.
Charlie Jayne and Chill R Z. Photo © Spruce Meadows Media Services.
Jayne remarked, "I started galloping about 50 strides away and the wrong one happened to show up. The 16 foot rails are very impressive here. That was the one jump in the first round that he didn't jump well, the CN oxer that was jump three in the first round. It was fence one in the jump-off, so I was a little worried that he was going to be backed off. He didn't back off, but I got a little too deep and shifted right."
He continued, "I just made a decision after I got 12 (strides) to fence two that I was going to try and go for a clear round. I was really happy with the way he went. He'd been knocking on the door the last two weeks. I've been making little rider errors, so I was happy that I fixed those for today."
Jayne added, "I wanted to say thank you to CN for being such a long-time sponsor for the sport. They've done amazing things for this sport, along with Spruce Meadows, so thank you."
The final horse in the jump-off was Ilan Ferder's Baronez with Kirsten Coe. They had a rail at the second to last jump to finish with four faults in 47.821 seconds for sixth place.
Kent Farrington raises the CN trophy with Tom Heathcott. Photo © Spruce Meadows Media Services.
Uceko, a 12-year-old Dutch Warmblood gelding by Celano x Koriander owned by RCG Farm, is a horse that knows what he's doing now and "doesn't need experience," Farrington said. Before the class, "he felt wild; that's how he's at his best," he added. "We keep him fresh and don't over-show him. My job is to manage his career and make it last as long as I can," Farrington commented.
By winning the first two grand prix competitions of the season, Farrington won a CN Bronze Spike and a $50,000 bonus through the CN $1,000,000 Precision Series. If Farrington and Uceko are victorious in the Atco Power Queen Elizabeth II Cup during the 'North American', they they will receive a CN Silver Spike and $450,000. The million dollar series will conclude with the CN International Grand Prix during the 'Masters', where an additional $500,000 bonus will be on the line if Farrington can come up with the winning formula once again.
Kent strikes the CN Bronze Spike in the winning presentation. Photo © Spruce Meadows Media Services.
Regarding the Series, Farrington said, "It's a great start, now we have to keep being great. We have to see if we're up for the challenge, but we'll give it our best shot." When asked how he'll spend his bonus money, he said, "I'll put it away and forget about it for a little while and just stay focused on what's still left to do here. I'll buy a few rounds at the pub for everybody! It's difficult to win anywhere, especially here in these classes with top competitors and big jumps. Two rounds of a serious course at Queen Elizabeth and the Masters, it's certainly not going to be easy."
Raising his prize money and bonus money checks, Kent Farrington is in line to win
even more through the CN $1,000,000 Precision Series.
Final Results: $200,000 CN Performance Grand Prix CSI-W
1. UCEKO: 2001 KWPN gelding by Celano x Koriander
KENT FARRINGTON (USA), RCG Farm: 0/0/44.469
2. CYLANA: 2002 Belgian Warmblood mare by Skippy II x Darco
REED KESSLER (USA), Reed Kessler: 0/0/46.810
3. CHILL R Z: 2003 Zangersheide stallion by Chellano Z x A Lucky One
CHARLIE JAYNE (USA), Alex Jayne: 0/0/47.000
4. SIMON: 1999 KWPN gelding by Mr. Blue x Polydox
BEEZIE MADDEN (USA), Abigail Wexner: 0/0/48.197
5. ROTHCHILD: 2001 Belgian Sport Horse gelding by Artos x Elegant De L'Ile
MCLAIN WARD (USA), Sagamore Farm: 0/4/44.327
6. BARONEZ: 2001 Warmblood mare by Heartbreaker x Unknown
KIRSTEN COE (USA), Ilan Ferder: 0/4/47.821
7. LANSDOWNE: 2003 KWPN stallion by Guidam x Wolfgang
CONOR SWAIL (IRL), Ariel & Susan Grange: 4/86.298
8. DOMINO: 2003 Warmblood gelding by Thunder van de Zuuthoeve x Azur Depaulstra
JOS VERLOOY (BEL), Axel Verlooy: 4/86.696
9. KISMET 50: 2001 BWP mare by Kannan x Furioso II
CANDICE KING (USA), Bellissimo, LLC: 4/86.957
10. TIC TAC: 2003 Belgian Sport Horse stallion by Clinton x Darco
LESLIE HOWARD (USA), Jane Clark: 4/87.543
Madden Shows How It's Done in 1.50m
Of the 37 entries in the class and nine in the jump-off, it was Beezie Madden and Coral Reef Via Volo, a 15-year-old Belgian Warmblood mare by Clinton x Heartbreaker, who rose to the top of the class in the $60,000 Great-West Life Cup 1.50m. They put down a clear round in a time of 42.10 seconds for victory. Second place went to Reed Kessler and Mika, who were clear in 43.31 seconds. Katie Dinan (USA) and Glory Days were third with no faults in a time of 43.78 seconds.
Madden smoothly executed an inside turn after the fourth jump, which set her up for a good line to the next skinny vertical. "I thought it would be faster," she said. "I went in and looked at it when I went in, so I could see it from a horse and it for sure gave you a better line after the skinny so you didn't have to slow down so much, in order to make the turn after it. I know she turns left so well, that she would jump a little left after that and spin inside there, and I would end up being able to do that fast."
Beezie Madden and Coral Reef Via Volo. Photo © Spruce Meadows Media Services.
Madden said that the first round course was hard for Via Volo "because a lot of the lines were steady," but if she can "just keep hunting along, she's usually pretty fast." She explained, "She has a big stride and the less I can fight with her, the better. She really handled it well. When I asked her to do something, she responded."
While Via Volo can be quirky about her surroundings, she was all business today. "She's always looking around; she doesn't miss much," Madden agreed. "For sure, she gets looking at things other than the fences sometimes and you have to try and keep her focus on the fence. Today she felt great. She was a little funny from (fences) one to two in the first round, but then she was right down to business."
Beezie Madden and Jay Barrett, Regional Manager of Employee Benefits, Sales & Marketing Centre at
Great-West Life raise the winner's trophy. Photo © Spruce Meadows Media Services.
Results: $60,000 Great-West Life Cup 1.50m
1. CORAL REEF VIA VOLO: 1998 BWP mare by Clinton x Heartbreaker
BEEZIE MADDEN (USA), Coral Reef Ranch: 0/0/42.10
2. MIKA: 2000 Selle Francais gelding by Nidor Platiere x Rubis Rouge
REED KESSLER (USA), Reed Kessler: 0/0/43.31
3. GLORY DAYS: 2001 Swedish Warmblood gelding by Cardento 933 x Diamond Serpent
KATIE DINAN (USA), Grant Road Partners, LLC: 0/0/43.78
4. CRIPTONITE: 2001 Holsteiner gelding by Cento x Capitol I
ENRIQUE GONZALEZ (MEX), Enrique Gonzalez: 0/0/44.30
5. POWERPLAY: 2004 Holsteiner gelding by by Casall x Limbus
ERIC LAMAZE (CAN), Artisan Farms LLC: 0/0/44.57
6. DUNDEE VD DWERSE HAGEN: 2003 Belgian Sport Horse by Caesar vd Helle x Brownboy
CAMERON HANLEY (IRL), Eleonore Paschoude & Yves Bouvier: 0/0/47.47
7. NICE DE PRISSEY: 2001 Selle Francais stallion by Rosire x Amarpour
BRIANNE GOUTAL (USA), Remarkable Farms LP: 0/4/47.12
8. ZERLY: 2004 KPWN mare by Querlybet Hero x Carthago
CHRISTINE MCCREA (USA), Candy Tribble: 0/8/45.18
9. ROUNDTHORN MADIOS: 2002 Irish Sport Horse gelding by Condios x Clover Hill
LAUREN TISBO (USA), Tequestrian Farms, LLC: 0/12/45.65
10. D ATLANTIQUE ROYALE: 2003 Belgian Warmblood gelding by Darco x Kannan
FRANCOIS MATHY (BEL), Team Harmony & Francois Mathy: 1/77.12
The next week of competition is the 'Canada One' Tournament on June 25-30, which will include the $50,000 RBC Royal Bank Cup and the $100,000 Esso Imperial Oil Challenge CSI-W. For more information on Spruce Meadows and full results, please visit www.sprucemeadows.com.
---
Based in Calgary, Canada, Spruce Meadows is the brainchild of the Southern family who built a Show Jumping complex at the foothills of the Alberta Rocky Mountains. It was in 1976 that the first Spruce Tournaments were held, with annual spectator attendances reaching over 50,000 by the end of the decade. Today, Spruce Meadows boasts one of the greatest outdoor equestrian venues in the world and offers an incredible experience for riders and fans alike. Spruce Meadows focuses on the organization and hosting of show jumping tournaments of unmatched quality for junior, amateur and professional athletes in a manner that reflects basic family values in a clean, green and welcoming environment that celebrates the horse and encourages the breeding and training of quality sport horses and the teaching and development of athletes. For more information on Spruce Meadows, please visit www.sprucemeadows.com.
---
Photos © Spruce Meadows Media Services. They may only be used in relation to this press release and with photo credit.